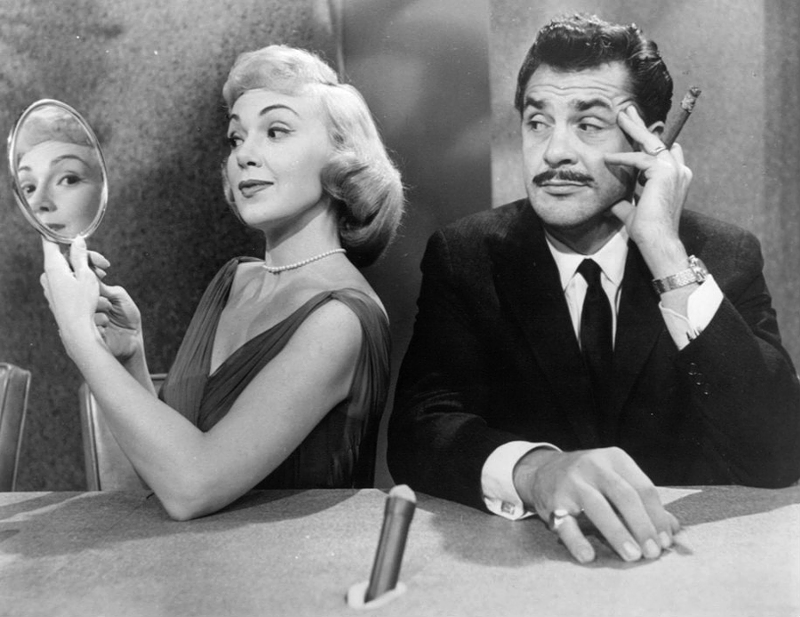 As we get further away from the 1950s and '60s, a period that for many adults is nearly two lifetimes ago, we are in serious danger of forgetting one of the funniest people in human history. In his day, Ernie Kovacs was a comic genius of almost immeasurable proportions. His rapier-sharp wit was delivered with a placid drollness and timing that was micrometer perfect, but he was also capable of broad slapstick that was somehow incredibly
stupid and still brilliantly highbrow. Somewhere in the Venn diagram of those disparate qualities was the heart and soul of Kovacs' humor, which walked the fine line between impenetrability and accessibility, alienation and universality.
During Kovacs' tragically short career — he was killed in a car accident in 1962, just 10 days before his 43rd birthday — he starred in 10 films and on television (The Ernie Kovacs Show, guest-hosting on Tonight Starring Steve Allen and hosting a variety of talk and game shows). Until her death in 2008, Kovacs' widow Edie Adams, a gifted comedian and performer in her own right who often worked alongside her husband, tirelessly tried to preserve Kovacs' television legacy, much of which was lost to poor storage of fragile kinescopes or to the common practice of erasing old tapes in order to document new shows. Adams' production company negotiated the rights to Kovacs' recordings and television appearances with the reissue label Shout! Factory.
That deal already has yielded a treasure trove of Kovacs' televised brilliance in the six-DVD set The Ernie Kovacs Collection in 2011, followed by a second volume of surviving material in 2012. On Oct. 17, Shout! Factory will shed light on something previously unreleased — a largely unheralded facet of Kovacs' career and one of the last television projects he worked on, a bizarre and anarchic game show called Take a Good Look. The first 1,000 pre-orders directly made through Shout! Factory (shoutfactory.com) will also receive a bonus DVD containing Private Eye, Private Eye, Kovacs' brilliant spoof of the era's profligate detective shows that aired as an episode of The United States Steel Hour in 1961.
Take a Good Look was essentially a parody of like-minded shows of that time — What's My Line?, To Tell the Truth and I've Got a Secret — where film and television personalities tried to guess the identity of or some interesting fact about the show's guests. In Kovacs' twisted version of the format, the celebrity panelists on Take a Good Look, who often included wife Adams as well as Zsa Zsa Gabor, Carl Reiner and many others, had to determine the mystery guest's line of work or an odd biographical fact based on a series of almost non-sequitur sketches. For instance, one guest's claim to fame was having blown the world's largest bubblegum bubble; one of the sketches featured a train making a "choo-choo" sound.
Take a Good Look ran for two seasons on ABC, from 1959 to 1961; the first season featured 39 episodes, the second only 14. Shout! Factory's seven-disc Ernie Kovacs: Take a Good Look - The Definitive Collection will include all 49 of the surviving episodes, most of which, beyond a few random and grainy YouTube clips, have been completely unseen since their original airing five-and-a-half decades ago. The shows have been restored and digitized by the Library of Congress and the collection also includes an additional 20 hours of rare footage of the comedian's groundbreaking work. Kovacs' ripple effect on the comedy world as a whole cannot be overstated. The brand of chaotic yet laser-focused sketch comedy he pioneered in the '50s was the influential basis for Great Britain's greatest sketch comedy export, Monty Python's Flying Circus, as well as the National Lampoon Radio Hour and its television counterpart Saturday Night Live.And Kovacs' freewheeling morning and late-night talk shows became the template for subsequent comedic hosts like Johnny Carson and David Letterman. It isn't empty hyperbole to call Kovacs a genius. It is a statement of ironclad fact.
---
TV critic Jac Kern is on vacation. She will return next week.